RIAI launches Dublin by Design, Architecture and the City
Posted on Nov 26, 2020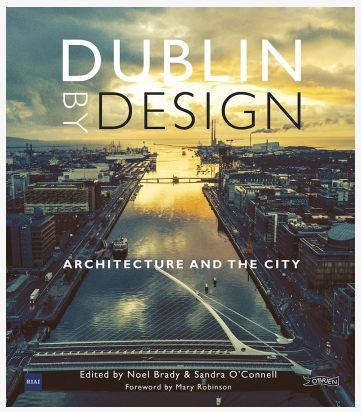 The Royal Institute for Architects in Ireland (RIAI) in partnership with The O'Brien Press and supported by Dublin City Council is delighted to launch Dublin by Design, Architecture and the City.
No single book can capture the multifarious characteristics of a city. Dublin by Design, by celebrating the city's architectural and urban works, reveals a fascinating story of the making and remaking of its fabric. Marking one hundred years since the city's trajectory shifted as it emerged as the capital of a newly minted free state, the contributors reveal some of the architectural layers of this complex tapestry that provide the back story to its iconic structures, streets and spaces. Interwoven through this story are images of the significant contribution that architecture has made to the public realm, with many featured projects recipients of RIAI Architecture Awards. If the last one hundred years are a measure, the next hundred will see Dublin impacted by economic, environmental and physical challenges.
Many individuals contributed to the creation of this book and the RIAI would like to extend their sincere thanks to Dr. Mary Robinson for her foreword and to the contributors: Dr. Mary Clark, Gráinne Shaffrey, Frederick O'Dwyer, Dr Brian Ward, Tony Reddy, Dr Ellen Rowley, Frank McDonald, Shane O'Toole, Paul de Freine, Dr. Jackie Bourke, Dr Lorcan Sirr, Gerry Cahill, James Pike, Éanna NÍ Lamhna, Dr Denis Byrne, Sean O'Laoire, and Shelly McNamara & Yvonne Farrell of Grafton Architects. The publication also features 'Next Generation Architecture' – new ideas for Dublin by final year students from the Schools of Architecture at UCD and TU Dublin. Dublin by Design, Architecture and the City is edited by Noel Brady and Sandra O'Connell.
Kathryn Meghen, RIAI CEO said: "The RIAI is delighted to see the publication of Dublin by Design – Architecture and the City and we would like to sincerely thank Dublin City Council for their support. Cities are continually changing, shaped by social, political and economic forces. Architects are the key authors of the design of our cities and have had a significant role in the making and remaking of Dublin City. This publication looks thematically at areas shaped by architecture – from our streets to our housing, healthcare and play spaces. We conclude this book with new ideas for Dublin city by architecture students, the next generation will undoubtedly continue to shape Ireland's capital city."
Ali Grehan, Dublin City Architect, added: "Dublin City Council welcomes Dublin by Design and thanks all who have contributed. Its publication is timely, coinciding with a global pandemic that questions the viability of our urban life. However, Dublin by Design's breadth of content answers these questions, describing centuries of moves to reinvent, repair and reinvigorate the city, and generate unique identity. Dublin, thankfully, is an imperfect work in progress. Anything otherwise would mean the city and its people had calcified. Dublin will prevail against the pandemic's particular challenge – that we are safer apart - for good reasons; people solve problems better together, face-to-face, and this creates opportunity, which in turn attracts more people. Moreover, urban living is intrinsically sustainable."
Michael O'Brien, Publisher, The O'Brien Press, said: "We welcomed the opportunity to work creatively with editors Noel Brady and Sandra O'Connell, and to collaborate with Kathryn Meghen and her colleagues at the RIAI. This was a unique partnership between the RIAI and O'Brien Press, both working to our strengths. As the country's leading independent publisher, O'Brien Press is renowned for books of the very highest production standards, and we offer all our authors insightful editing, beautiful design and energetic marketing and sales. We have been publishing important books on our built environment since the 1970s, with titles like Patrick Shaffrey's ground-breaking The Irish Town: An Approach to Survival, and we are proud that Dublin By Design will stand as an impressive record of the city's architectural history and provide inspiration to overcome current and future challenges."
Dublin by Design is available from the RIAI Bookshop at a cost of €29.99. To order a copy please contact Brona King, RIAI Bookshop, bking@riai.ie and T 01 6761703.